I was wondering if anyone know of any rules or examples - or own experiences - with untraditional layering of regiones?
It seems to me that the traditional regio design is one of a single house or structure with multiple floors. This could also be described akin to an onion or a singular hill, where you can basically only move up or down in 'one' direction, so that there is only one layer of level x. But what if it was possible to have seperate pockets within the regio?
In this case the regio might share one or more lower levels (for instance a level 1 and a level 3) but have several higher pockets (of for instance level 5) each seperate from each other and each with their own entrances from the lower tiers that they are all connected to. This would make it more like towers jutting above a shared foundation or wall, which seperates it from the more traditional 'mono-structure' described in the core book. I've added a picture below - purely an arbitrary example - to try to illustrate the two models of regiones.
I don't know, however, whether this is within RAW, in a grey zone, or well beyond. Let me know what you think.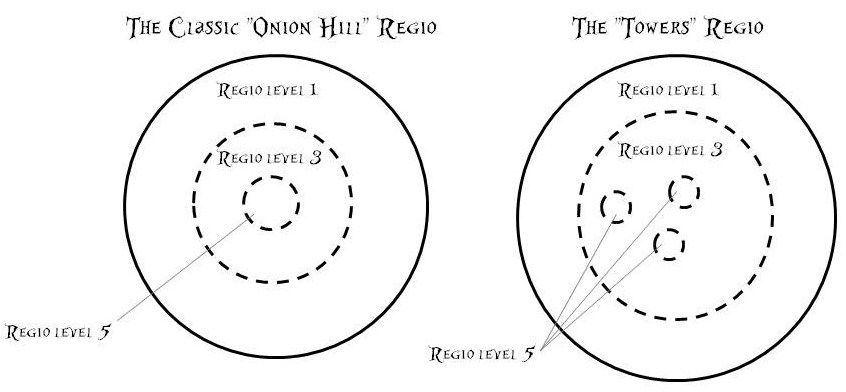 8
Bonus info: this is relevant for a covenant about to be established in a regio covering an ancient temple ground. I imagined the mundane level to be nothing but an overgrown ruin, the first level or two of the regio would look as the temple ground looked in antiquity, and stepping into a number of the individual temples would then lead into seperate higher-levelled pockets of the regio.