So today I ran my party through the upper levels of the caves beneath the castle of Drachenfels.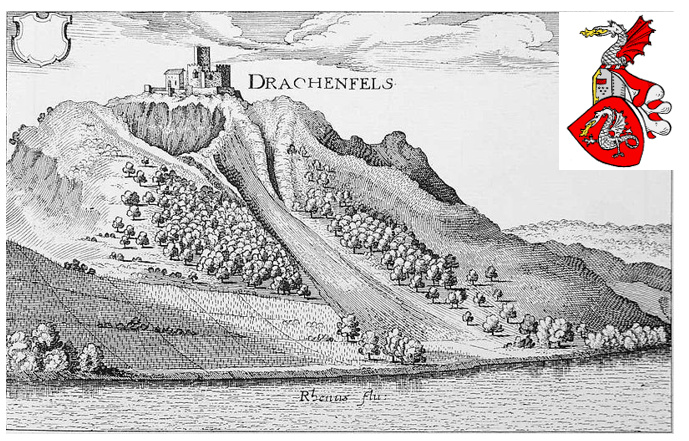 I will present this in a few parts.
Edit: One thing which I chose to do, to keep up the tension in the cave exploration was to go through the adventure using non linear narrative. So, I opened with them debriefing the Burggraf on what happened and would cut back and forth to the room where they explained what they did. It allowed me to do time skips, as well as just asking the players "So how did you cross the chasm?". Obviously, this is something to discuss with players in advance, so that they know what is happening and that they buy into the assumptions necessary for the non-linear nature of the storytelling.
Part 1: The people and monsters
The castle
The lord of the castle is the Burggraf: Gottfried "the old" von Drachenfels (born 1151, count since 1176, 71 years old but in great health when characters meet him, dies in 1225) then his son Heinrich von Drachenfels. He bought the castle from Philip I.
. Likes to hunt, had some military success serving under six different Archbishops.
He supports the Welf over the Staufen, and has taken part in several battles: the battle of Whitsuntide against Barbarossa (won), Wassenberg (defeated, 1206) and fought the armies of the dukes of Kleves and Limburg from 1217-1220. Was in charge of the defence of Bonn while one Archbishop was in Rome and again when Engelbert went to fight the Albigensian crusade.
He'll mentioning knowing personally the previous Count Diedrich of Kleves (which he used to call young Diedrich), "who helped found the Teutonic Order and died on Crusade in Acre as I heard it".
The Burggraf and his descendants have the Unaging virtue, depending on the ST's wishes he may have made a deal with the Dragons in the caves. His father was Rudolf II knight von Wolkenburg and grandfather Rudolph I von Wolkenburg took charge of it's defence in 1125. The Wolkenburg is smaller than Drachenfels and is now just an outpost.
List of Burggrafen:
1151-1176-1225† Godart von Drachenfels, he has a full head of hair and short pointed grey Van-Dyke goatee and extremely piercing eyes. He is extremely sharp and smiles like a predator, wears fine hunting clothes, fiddles with a beautiful dagger while he talks. He is inquisitive, commanding and aggressive in his thinking. He respects courage, fortitude and bearing wounds stoically (having done so himself in battle).
1177-1225-1258† Heinrich von Drachenfels, Mid-late forties dark hair, looks strong, driven. He looks a lot like his father, dresses well in fashionable clothes in the colour of his house. He has a short-trimmed beard and a bowl haircut. He looks very healthy and energetic. Has a single sword slash scar on his left cheek, that healed well.
1205-1258-1280† Gottfried von Drachenfels, late teen, looks like his ancestors, awkward, world's worst moustache. He is an awkward teen, but inquisitive and will bombard the party with questions about magic should they reveal themselves to be wizards.
Regin and his brood
After Siegfried killed Fafnir, he became aware of Regin's plan for betrayal and struck him. However Regin did not die but was mortally wounded by Notung. The blade of Notung broke on the Tarnhelm that Regin had already put on. He used the Tarnhelm to take the form of a dragon, like his brother before him, which merely holds the wound stable (effect as per binding wounds) and the rest of his clan gradually turned into draconids. He is stuck in pain forever bleeding (explains flooded corridor, see later) and breathing out poisoned gas (explains gassed corridor, again, see later). He is tended by a flock of his fellow dwarves whohave by now turned into draconid monsters.
Draconid brood member
These draconids run on two stubby legs, balancing their long snake like body back and forth as they go. Their heads are akin to a spiny snake's, end in a triangular horned beak. A double spiny ridge runs from their forehead all along their body down to the tail.(effectively small lindwords, use the stats of Varkos, the fire Drake, RoP:M p75)