That's right, I decided to make up a set of rules regarding some amount of tactical movement. The intent is for these rules to be simple enough, but provide a decent backdrop to a battle. It is largely abstract.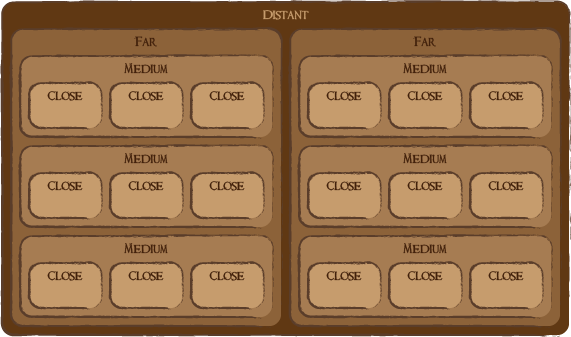 Here we have several group types - Close, Medium, Far, and Distant.
A Close group is a single scuffle on the battlefield, one "group" of combatants. It is approximately 5 paces across.
A Medium group holds three Close groups. It is approximately up to 15 paces across.
A Far group holds three Medium groups. It is approximately up to 50 paces across.
A Distant group holds any number of Far groups. It is above 50 paces across.
Moving between groups takes a Reposition. You get one Reposition as a fast action (Lords of Men), or one Reposition in tandem with Disengage or Charge. You get two Repositions when dedicating your main action to movement. Additionally, you can double the amount of Repositions by spending a Fatigue level.
It takes one Reposition to move between Close groups within the same Medium group.
It takes two Repositions to change a Medium group within the same Far group - one to leave the Medium group you are currently occupying, and one to enter another Medium group, automatically sliding into one of its Close groups.
Similarly, once you're outside a Medium group, you can step outside the Far group, then move inside another Far group, and finally move inside one of its Medium groups (thus occupying one of that group's Close groups). The whole maneuver therefore takes four Repositions.
Movement between Distant groups is resolved narratively, or by actual ground movement speed (Lords of Men).
Realistically you'd never see a fight with more than one Medium group, but there may be exceptions, such as an archer hiding in another Far group (thus approximately 50-100 paces away).
The exact wording of how repositioning is supposed to work could use some ironing out, but that's the basic premise. As a bonus, you get clear distinctions between Groups of combatants, all enclosed within a Voice range.