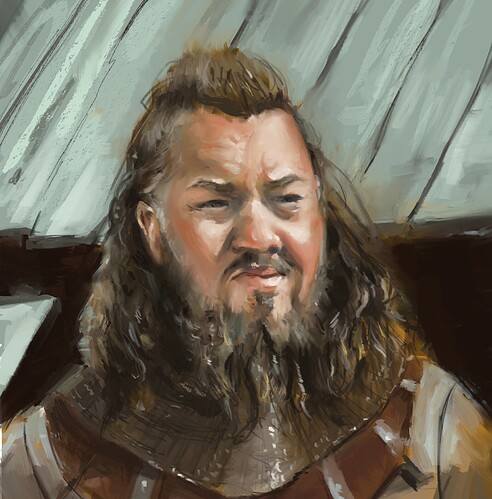 Lares ex Miscellanea
updated partly through spring 1290
Lares is a shortish, stout, inelegant, unusually hairy man. His demeanor is deferential or respectful to most, but it takes on fatherly tones with those he considers his dependants.
Lares grew up in the covenant of Roznov in the Rhine Tribunal as the child of a covenfolk maid. The covenant required pedantic, selfless service – cataloging books, taking diction, and so on. Sometimes they would even task him with what seemed like meaningless puzzles under needless duress. Lares would later cherish these lessons, which proved essential to his style of magic.
Lares' parens, Avia, adopted him as an apprentice after his Gift bloomed as a teenager. Having finally adopted him into the Domovyki family as a full apprentice, Avia devoted extensive and loving attention to Lares. She fostered his flexible and intimate, even corporeal connection with magic, resulting in an unusual but versatile skillset emphasizing magical control.
The covenant's loremaster, Albrecht, was assigned as Lares' guardian and tutor. Albrecht accompanied him at all times, and Avia purposefully crafted escapades that would let the two grow close.
One such escapade to the East ended poorly. All of Lares' companions, including Albrecht, were slain by a cabal of hedge magicians. Only the intervention of Albrecht's apparition saved Lares. The assailants cursed Lares with lycanthropy, however. Due to the unknown nature of the curse, Avia has been unable to reverse it.
Life at Roznov was never entirely to Lares' liking. In particular, he detested the harsh treatment of Igor Rastvan's slaves. He could not understand how Avia could ignore their suffering just because she did not consider them part of her family.
By his gauntlet in 1187 at age 29, Lares had decided to leave the injustices of Roznov behind. He wanted to establish a collective of his own on a sounder basis.
Stats
Characteristics: Int +3, Per 0, Pre 0, Com 0, Str 0, Sta +3, Dex -3, Qik +1
Size: 0
Age: 29 (29), Height: 158 cm, Weight: 72 kg, Gender: Male
Decrepitude: 0
Warping Score: 0 (0)
Confidence: 1 (3)
Virtues and Flaws:
The Gift, Hermetic Magus
Minor virtues: Affinity with Vim, Minor Magical Focus (Control Spells [sustain, suppress, conduct, or contain spell, excludes e.g. warding and vis transfers]), Subtle Magic, Quiet Magic, Skilled Parens, Life Boost, Cautious Sorcerer
Major hermetic virtue: Life-Linked Spontaneous Magic
From tradition: Imbued with the Spirit of Vim, Ghostly Warder, Difficult Longevity Ritual
Flaws: Covenant Upbringing, Hermetic Patron (Domovyki), Bound Magic, Lycanthrope (Bear, Soak: +3), Compassionate, No Sense of Direction
Personality Traits: Hard-working +2, Compassionate +3, Dutiful +2, Protective +1
Combat:
Dodge: Init: +1, Attack --, Defense +4, Damage --
Fist: Init: +1, Attack -1, Defense +3, Damage +0
Kick: Init: +0, Attack -1, Defense +2, Damage +3
Soak: +3
Fatigue levels: OK, 0, -1, -3, -5, Unconscious
Wound Penalties: -1 (1-5), -3 (6-10), -5 (11-15), Incapacitated (16-20), Dead (21+)
Abilities:
Ability
specialy
score
invested xp
High German [Bavarian]
(Expansive vocabulary)
5
0
Artes Liberales
(ceremonial magic)
1
5
Athletics
(running)
1
5
Awareness
(alertness)
2
15
Brawl
(Dodge)
2
15
Berber
(Tuareg)
2
17
Chamberlain
(covenfolk relations)
1
5
Code of Hermes
(tribunal procedures)
1
5
Concentration
(spell concentration)
3
30
Finesse
(casting speed)
1
5
Folk Ken
(magi)
1
5
Latin
(hermetic usage)
5
75
Leadership
(grogs)
2
15
Magic Theory
(inventing spells)
3
30
Order of Hermes Lore
(politics)
1
5
Parma Magica
(Ignem)
1
5
Penetration
(Mentem)
1
5
Philosophiae
(ceremonial magic)
1
5
Ride
(not falling off)
1
5
Scribe
(copying)
1
5
Steward
(covenfolk relations)
0
2
Swim
(not drowning)
1
5
Steward
1
5
Chamberlain
0
3
Arts
Art
level
points
Art
level
points
Art
level
points
Creo
5
15
Animal
5
15
Ignem
2
3
Muto
5
17
Aquam
3
6
Imaginem
3
6
Intelligo
5
15
Aurum
3
6
Mentem
7
28
Rego
10
60
Corpus
4
10
Terram
3
6
Perdo
5
15
Herbem
2
3
Vim
10
62
Spells Known:
Maintaining the Demanding Spell (ReVi 25) +33
Opening the Intangible Tunnel (ReVi 25) +33
The Call to Slumber (ReMe 10) +21, Mastery 1 (multiple)
Unravelling the Fabric of Vim (PeVi 15) +18
Ring of Warding Against Spirits (ReMe 15) +20
Suppressing the Wizard's Handiwork (ReVi 25) +33
Aura of Rightful Authority (ReMe 20) +20
Circle of Beast Warding (ReAn 5) +18
Wizard's Sidestep (ReIm 10) +16
Aegis of the Hearth (ReVi 30) +23
Wizard's Vigil (MuVi25) +18
Moon of spell Maintenance (ReVi45) +33
Endurance of the Berserkers (ReCo15) +17
The Domovyki tradition, Ex Miscellanea
The Domovyki are a tradition of domestically-oriented magi that traces its lineage to Rod, the god of the family, ancestors, and fate. Its members value industriousness and loyalty above all else, and seek to inculcate deep ties of obligation in both members and other covenfolk. These ties even continue in death: the tradition's rituals ensure that ghosts of covenfolk adopt living members as proteges, and are accorded great respect by the living in return. This imbues the recipient with an empowering spiritual taint that some creatures of magic perceive as abhorrent. The taint also interferes with longevity rituals and thus hastens the demise of Domovyki magi. They themselves, however, tend to consider this a benefit, seeing as it lets them join their venerated ancestors in servitude.
Lab texts:
Level 30 Aegis of the hearth
Level 25 Wizard's Vigil