Nice resource, but not exactly a community project, is it? Or have I missed something?
Magi of Tom is about as much a community project as the ironboundtome is - a personal blog for all the resources that demand writing up but aren't expecting outside contribution - examples of the "just do it" school of contributing to fandom.
We have had several threads about collaborative writing projects on this forum, such as "the things to write thread" - [url]https://forum.atlas-games.com/t/the-things-we-should-write-thread/9986/1] few have come to fruition (which is why Vanilla Covenants vol 1 is worthy of praise). I had hopes the Rome Tribunal project would create nice things.
I suppose the "A a day for November" threads (30 items of game writing for National Gaming Demonstration or NaGaDemon, the RPG equivalent of NaNoWriMo) could count - CJ's done saints and tribunal cases, we have done magic items, I did Solomonic naranj with a couple submitted by other people.
EDIT: eg
[url]https://forum.atlas-games.com/t/a-book-a-day-for-november/10429/1] A book a day for November.
[url]https://forum.atlas-games.com/t/thirty-solomonic-suggestions-for-november/8399/1] "30 solomonic suggestions" became 21 Naranj in the end, with Ramidel chipping in a couple.
Good point.
Should we also include the various "more magi of hermes" threads on the forum?
That's why I asked earlier if my blog was a viable resource. I read it as projects which are in the community, not projects which must have multiple participants from within the community. Trim the personal Ars blogs/vidblogs/projects out if they're off-topic.


There are some reasonable questions infrequently asked in the Ars topic of RPG Stack Exchange, though they are very specific.
I also thought Vanilla Covenant was all but dead when the official book of sample covenants was announced.
The link david.berco.online.fr/pages/downloads.page=012.html doesn't seem to work. Neat stuff shared here guys.

For my part, I requested a list of these community projects so I could mention them in my editorial for the next issue of Peripheral Code. The "30 days in November" projects are a great example and I am trying to include as many of them as I can find.
I will not have room to include every blog and website related to the game -- but reviews and surveys of those pages would be a great column or regular feature!
It's up to you if it counts or not but my blog, My Life as a Grog has several projects on:
Redcaps
Mythic Levant
Mythic Genoa
Andalusian Magi
Terrae Magi
The Erythraean Sea
It's also got some errata and cutfile pieces from the various books I contributed to which may be of interest.
Lachie
Which reminds me - maybe I should finish the final period for Janus which I stopped half-way through?
Go for it!
I didn't mean to shut the project down on everyone, it was just that the Criamon I was writing was 'done'.
Tellus, Christian - do you remember how as Annulus Connectens was winding down, we tossed around ideas for a follow-up, like Hedge Magi or a radically diferent sort of covenant? Should we try starting one up in the next few months?
I'm game, though currently Real Life[sup][size=85]TM[/size][/sup] is a bit of a bugger, which is why I haven't started already.
Oh I didn't feel you or anyone had shut it down, it just sort of trailed off for me. I have some of the projects fleshed out for Janus' next period (and have had for quite a while) but ran out of ideas.
I should probably get in on that as well. Could be fun to finangle a little with Hedgies. Are we talking from Hedge Magic RE only, or also RIval Magi? As for time...well that's always in short demand. But a little here, a little there. Should be doable.
Hello Timothy, could you please tell me how I may proceed so as to make an intelligent link to your work about Cornish folklore into Vanilla Covenant pdf ?
If I go to your blog : timothyferguson.wordpress.com/
And type "Cornish folklore" inside the research area called "Enter Keywords" (the one which appears when clicking onto the magnifying glass) :
I obtain a link like this : timothyferguson.wordpress.com/? ... h+folklore
Is it correct to paste this link into the Vanilla Covenant pdf (I mean, will I access using the generated link to the whole/right containing of your blog about Cornish folklore or am I missing a consequent part of it?)
Do you think other keyword(s) would be more appropriate?
Please tell me.
Thanks by advance.
The insert into Vanilla Covenant pdf will look like this: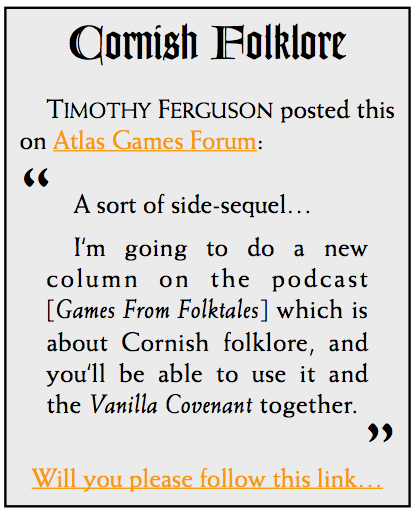 Eventually the Cornish material will reside, in final form, at timothyferguson.wordpress.com/e ... ents-page/
If you do a keyword search for Cornwall you get the less processed material, so perhaps that thing above is the better one.
Thank you a lot Timothy. I'll put the link you give above into the Vanilla Covenant pdf!
Many Thanks again!